Feeling safe and secure with dementia
For me the essence of feeling at home is captured in these words by American author and poet Maya Angelou: "The ache for home lives in all of us, the safe place where we can go as we are and not be questioned."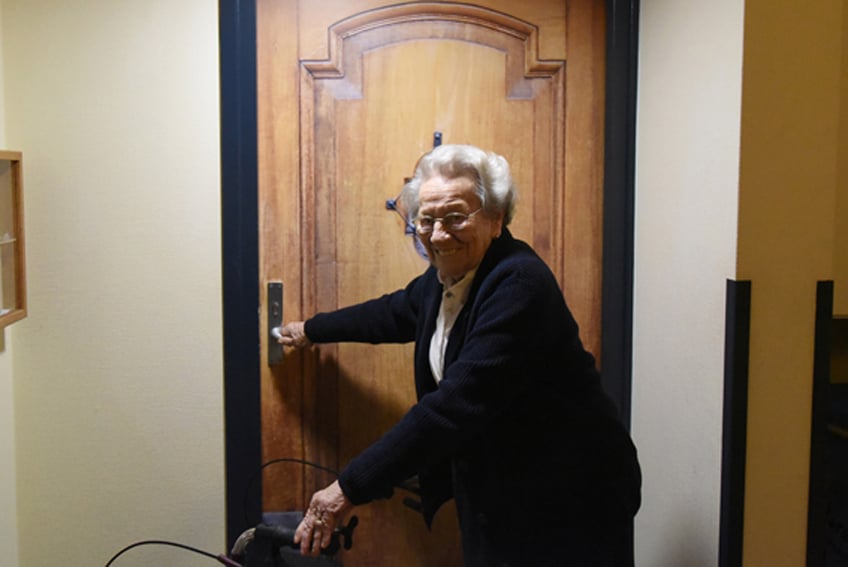 Clearly, "home" isn't a safe place for everybody. People living in a war zone or for example victims of domestic violence, understandably feel stressed and unsafe at home.
So, maybe it's better to say that feeling safe at home is more like a human desire and something we shouldn't take for granted. We want home to be that place where we can be who we are, without any fears.
Where we can escape from the hectic and sometimes crazy outside world. People with dementia experience physical- and cognitive decline. As dementia progresses, they become less capable of taking care of themselves. Daily activities, such as preparing a meal, dressing, and rising from a chair might become difficult and potentially dangerous.
The risk of falling usually increases for people with dementia and they are also more likely to wander around, not knowing where to go or where they came from. At some point, a person with dementia will reach a stage in which independent functioning is no longer possible.
To prevent harmful situations, much attention is paid to risk reduction by creating a safe environment. We all know of closed wards in nursing homes, which prevent residents with dementia from leaving the ward and wandering around. Nursing home corridors, showers and toilets often have handrails that help the residents keeping their balance.
However, actually feeling secure is quite different from using tools to create a safe environment. Someone might feel safe while he or she is in danger. On the other hand, someone might feel unsafe, while technically a situation is perfectly safe. When people with dementia try to make sense of the world around them, their brains use their long-term memory rather than short-term memory.
This means that they often perceive and understand the world from a different time and place, and therefore a different reality. The difference between these two "environments" is often a source of immense fear and anxiety for people with dementia and can result in negative behaviours like aggression and agitation.
So, what can we do to create a safe and secure feeling for people with dementia? The first step is to get to know the person better, and find out what makes them feel peaceful and at ease. Realise that this is an ongoing process of searching and trying to understand their behaviour, which will change over time.
Somebody can feel safe now when you touch their hand but might become anxious when you do this in a later stage of dementia. Flemish psychotherapist Rien Verdult, the founder of a widely used model for personal and experience-oriented care for people with dementia, supports his theory using humanistic psychology.
He suggests that the support of people with dementia should mainly focus on creating a feeling of security. According to Verdult, people with dementia are still able to develop new skills when an environment is inviting, accepting and safe. However, the empathy and sincerity of family and caregivers are crucial for accomplishing this.
Below, we provide a few recommendations to help you create a safe and secure environment for people with dementia:
Non-verbal communication
Non-verbal communication is very important for people with dementia. Try to make eye contact with the person every time you speak to them. Also, physical contact such as gently holding their hand or wrapping an arm around them is often appreciated. It gives them a sense of security and being loved. But remember, you can also get a rejection because not everyone appreciates being touched.
Recognizable environment
People with dementia feel safe in a familiar environment, like their home. But what if they move to a nursing home? This new living space offers few recognition points for someone with dementia.
People sometimes feel anxious, are unable to orientate and wander around. Therefore, make sure the environment contains elements that remind them of the past. These can be furniture from the previous house, as well as old photos.
Something that tells them: this is familiar; in this place I'm safe. Also by using the True Doors, we want to give residents with dementia a sense of recognition and security. An image of a recognizable front door reminds them of home, in a place that is still new and unknown.
Trust
Trust is important for people with dementia when it comes to feeling safe and secure. Besides familiar objects, they like to be close to people they know they can trust. Despite the cognitive decline, people with dementia are often aware of who cares for them.
This is a result of successive positive contacts in the past. Try to comfort the person with dementia, for example by chatting about a favourite topic. Be flexible, creative and don't be afraid to use your sense of humour. This will help to break the ice!
Take your time
Please take your time while interacting with people with dementia. Try not to rush, or act like you are in a hurry. Someone with dementia easily gets overstimulated. This can make them feel anxious and insecure. Sit calmly with the person and always approach them in a loving and inviting way. A connection between people is a valuable thing.