Lovely feedback from Mariann Home, Richmond Hill, Ontario
My LTC home, Mariann Home in Richmond Hill Ontario was lucky enough to be able to have True Door Decals installed in our home over the summer of 2021. True Doors have brought a sense of 'home' and 'community' back into our facility.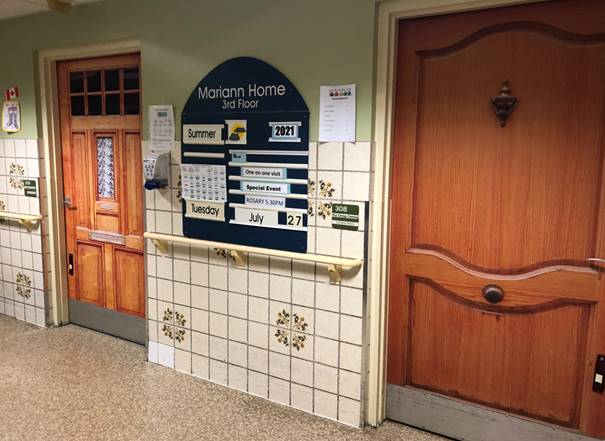 It was important to me as the Life Enrichment Director to not only bring successful and meaningful programs into the home but I wanted to really see how we could shift the home from a less clinic-looking setting to a more home-like environment. True Doors did just that for us!
We were lucky to have Kathy Hirsch from Sensory-scape come into the home to install our door murals, and she was nothing short of kind and respectful, as well as talented in her career. True Doors decals have given our residents not only a sense of home, but also gave them something of their own, a door that is unique to who they are as a person.
I also wanted our residents to have their own individualized door to assist our residents living with Dementia to help them find their room on their own. This took some time for certain residents to adjust and recognize their door, but it has made a beneficial impact, to assisting those residents in finding their room independently and giving them a sense of comfort.
I have had wonderful feedback from residents, family, and staff stating the decals on the doors look amazing, that they have made the home look more inviting and less clinical. They have made comments that their loved ones living in our home are happy with their new doors.
One resident had mentioned that it feels nice to come to her room and see such a pretty door, it makes her feel like she is not living in an LTC home. Other families have only had wonderful things to say when they have seen the doors in person or when they have seen them in our monthly newsletter.
Overall, our True Doors experience has been nothing short of amazing and we are looking into possibly adding some more decals to our dining room and tub room doors in the future. I would highly recommend True Doors and Sensory-scapes, as they have truly made a wonderful impact on our home.
Sincerely,
Shannon O'Connor
Life Enrichment Director
Mariann Home
Transform impersonal hallways into neighborhoods with homes.
Help people to recognize and find their own doors. Increase privacy and sense of safety. Stimulate reminiscence and social interaction. Help elders feel at home, and energize staff with a beautiful workplace.