Onwards and Upwards True Doors Australia One-year Anniversary
Last week we hosted a couple of webinars to summarise our first year of working in Australia.
Although True Doors have been helping elders connect with their spaces and communities in Europe for four years, Australia is a very different part of the world and we wondered if people felt the same connection to a door from the past.
We hoped to stimulate social interaction, improve way-finding, engender a greater feeling of privacy and help people to reminisce. All fine outcomes of a person-centred approach where elders at nursing homes have a voice in selecting their True Doors and through a well applied process are helped to feel more at home and express their identities.
Here I outline the process, focus and outcomes of a few projects. During the webinar I was reminded of the touching personal stories that came up during the projects, something that's difficult to communicate in an article such as this.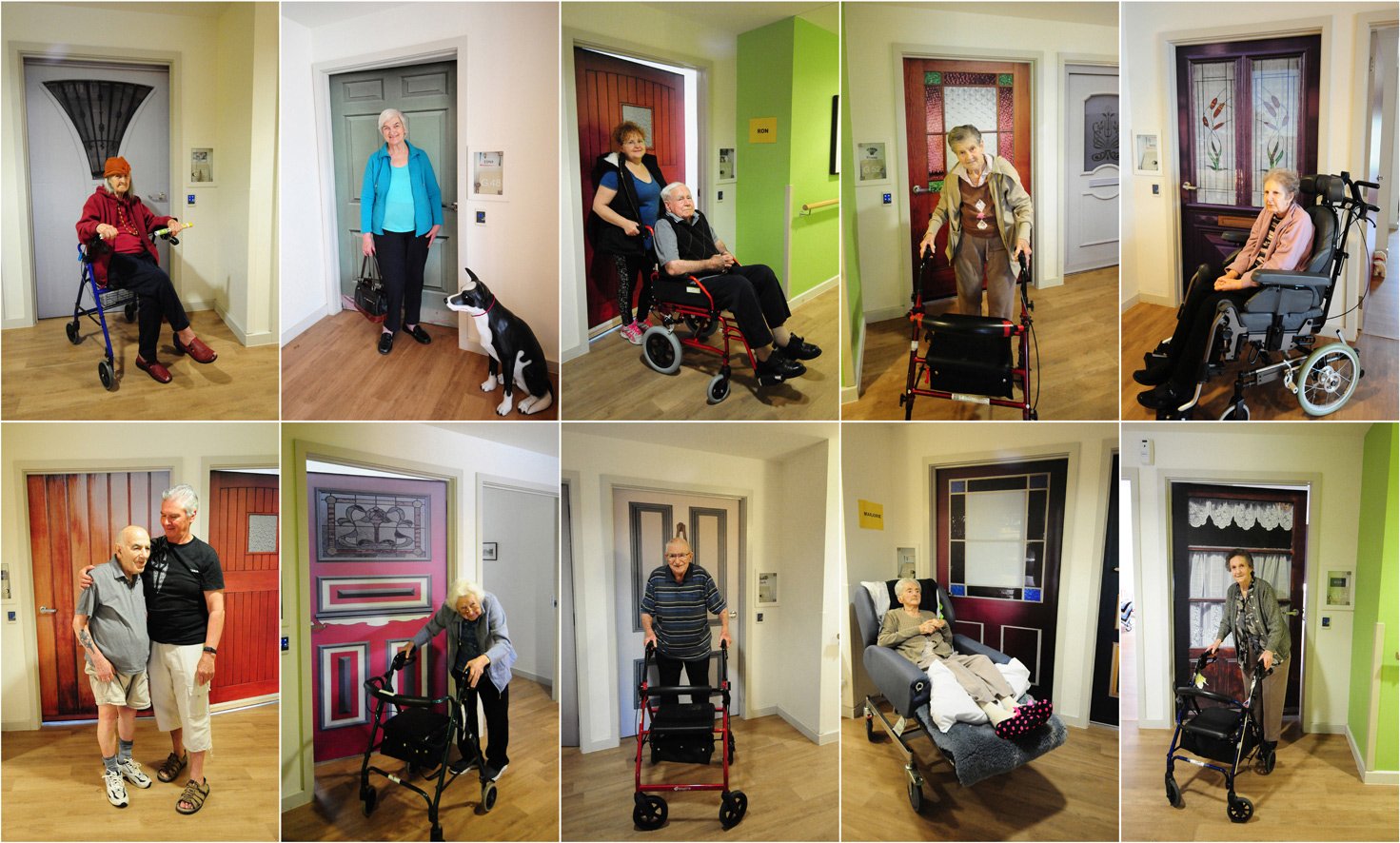 Mercy Health Bethlehem Bendigo
A True Doors transformation in (Bendigo) Victoria, Australia.
During our first project we were reminded that the more time you have to spend on the discovery process the better the quality of the interaction is likely to be. As obvious as it sounds this is something that's easy to forget as we are often 'trying to get things done'- there's value to taking your time and making the experience enjoyable for everyone involved.
Family and staff appreciated the opportunity to learn more about their community members and celebrate who they are!
We began by asking families for addresses of homes from the past and I was to photograph these.
Well straight away we were faced with challenges; some residents had moved great distances interstate, homes no longer existed or as we discovered- farm houses in remote rural communities weren't necessarily built for their looks!
We realised that, in a paddock on a bush block hundreds of kilometres from a town, a distinctive front door was not required, folks often installed aluminium sliding glass doors with security screens.
Back to the drawing board! We asked more questions about people's pasts and interests. Some family members requested that we photograph their front door as they felt their parent had a strong connection with that home.
With other elders we spent time looking through a shortlist of doors we had printed off the website based on these discussions. And if the resident had reverted to first language or did not have family support we took a good look at their rooms, learned more about their interests and hobbies or perhaps a favourite colour.
Once we had a short list of three doors we made another appointment, sometimes with staff and family involved to visit and chat about each door and what feelings or reminiscences they were evoking for the elder.
Interestingly the doors that were chosen were sometimes similar to ones from the past, but often they reflected who they are now. This project also enabled us to start adding Australian doors to the collection.
Outcomes: This was a very enjoyable experience for all of us – we had quite a few laughs and got to know each of the resident elders even more. Family love the new more homely look. The elders tell stories about the door and how they chose it or what it represents for them.
You can read reactions from residents, family and staff in the project write up about Mercy Health Bethlehem Home for the Aged.
Rural North West Health, Warracknabeal - VIC Wattle Crescent
This group of elders all have moderate to advanced dementia and some with a lot of confusion and difficulty in finding their way around the spaces and identifying their rooms.
Everyone hoped that by personalising the wing with True Doors the elders would form better connections with their space and recognize their own doors.
This is also a remote rural community. Doors were chosen over a week with staff and family involved in supporting the elder.
The final choice reflected a mixture of doors similar to homes in the past but also doors that reflected who they are now. All the doors came from the True Doors collection.
Outcomes: Staff spent some time after the decals were stuck supporting individuals with cognitive changes to recognize their new door. Staff reports much improved ability to navigate and elders are less likely to wander into the wrong room!

Acacia Care Perth WA
A True Doors Transformation at Acacia Living Group Australia
The manager here wanted to personalise the space and provide different doors for each individual.
Staff and elders were involved in final decisions – images of True Doors from the collection were printed out and put on cork boards for preferences to be discussed.
Notably, even though the residents hadn't been involved in the first choices, including them in the conversations created more of a sense of ownership with their final doors and their ability to navigate the long corridors and recognise their rooms has improved.
You can read reactions from family in the project write up about the Acacia Living Group.
TLC The Heights Donvale Melbourne VIC
This was a small trial of four doors at a large facility on the outskirts of Melbourne. Many of the residents were born in Europe around the Mediterranean.
Whilst applying the decals there were lots of uplifting interactions with residents – as they walked by they stopped to admire and reminisce about their youth or just tell stories that the doors sparked!
We sometimes get very emotional reactions. One lovely lady wept as she looked at other's doors because she said she hadn't imagined that she would be able to have something so beautiful!
She continually thanked us.
In Sum
Installing the doors creates a "buzz" in the care facility, many people take tours to look, admire and discuss. And so, opportunities for interactions and fun conversations are increased.
Having a True Door helps preserve past identity but also encourages a celebration of who the elder is now and allow us to create more meaning in the time we spend with people living with cognitive changes.
And, not to forget, those anonymous corridors become something personal and street like, improving the physical environment for elders, staff and visitors.
Transform impersonal hallways into neighborhoods with homes.
Help people to recognize and find their own doors. Increase privacy and sense of safety. Stimulate reminiscence and social interaction. Help elders feel at home, and energize staff with a beautiful workplace.